Greatest Guitar Solos in Recorded Rock History
by Jim Esposito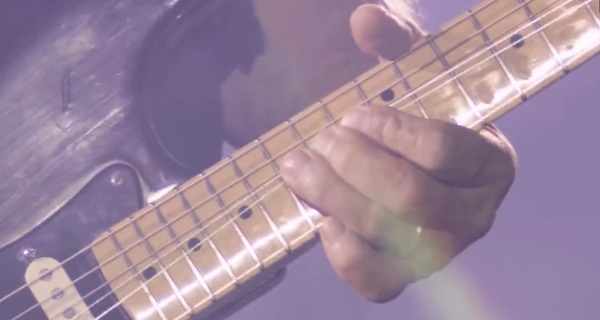 A great guitar solo is a thing of beauty, a composition. Many guitarists jump into a break with loud, flashy scales played at a warp speed. Those guys are just filling space, showing off to get girls, not constructing a lyrically cohesive piece of music. Some players, however, have a way of composing while they improvise.
Whatever I list some people will agree, some will disagree. Others may be irate I left their hero, or the song that changed their life off my list. ("I was all messed up. Then I heard so-and-so playing such-and-such…") There will be great guitar players who don't appear on my list. This is not to denigrate their virtuosity. Some guitarists boast an incredible body of work, however you can't point to one solo in one song that simply crystallizes their brilliance. Other guys are technical virtuosos, but don't have the mentality to construct a fluid solo.
I realize songs and artists I list go back to the Golden Days of Classic Rock. Some may cite newer music. From the 80s or 90s perhaps. Artists and songs I list here are the originals. Eddie Van Halen did great work, but without Jimmy Page preceding he might've been flipping burgers. Popa Chubby, Jimmy Thackery and Joe Bonamassa have likewise play excellent guitar, but stood on the shoulders of Eric Clapton and Ritchie Blackmore.
Also, I differentiate here between a Solo and an Instrumental. A Solo is a dedicated interlude in a song. "Pipeline," "Hideaway" or "Samba Pa Ti" are...
Continue Reading Click Here

Like – DUH! Blues
Top 10 Best Blues Albums in Recorded History
by Jim Esposito
There are hundreds of excellent blues albums out there. They feature one or two great songs, two or three good tracks, a couple others you can listen to, one or two you don't especially wanna sit through – but you do because you really like those two great songs.
In this article we're not talking about the most significant, the most influential. We're talking about the best. The most listenable. Robert Johnson was perhaps the single most influential person on Rock and Blues music in the last century. That doesn't mean I play his records. It's like archeology.
The Blues are elemental. Growing out of cotton fields down South, the genus was confined at first to the (quote, unquote) "Negro population." Founding Blues pioneers like Charley Patton, Son House and Robert Johnson playing "The Devil's Music" in weekend Juke Joints around plantations in the Mississippi Delta inspired the likes of Muddy Waters, Howlin' Wolf and Elmore James, who eked out a meager living in relative obscurity while white kids did the Mashed Potato at Sock Hops in High School Gyms to Ricky Nelson and The Four Freshmen.
A different story in England where a whole generation of budding guitar virtuosos freaked over American Blues. A big component of the fabled British Invasion was...
Continue Reading Click Here