A Momentous Encounter Leads to The Formation of Monumental Hard Rock Band
History of Deep Purple: Heavy Metal Superstars Meet For First Time in Kensington Crash Pad of Crazy British Drummer
by Jim Esposito
Out The Mouth of Ritchie Blackmore,
Into My Cassette Recorder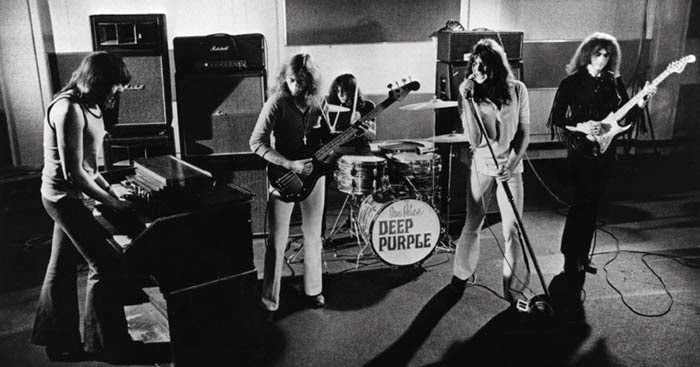 Circa 1967 an undiscovered British guitarist named Ritchie Blackmore was living in Hamburg, Germany, when a drummer who liked his playing phoned him. He was getting a band together.
"I've got a guy on organ here, and various other people. I want you to be the guitar player."
Ritchie knew this drummer was a bit mad, but he hopped a flight to England, headed for the guy's flat in Kensington, which at the time was the real hippie-type section of London.
The drummer never locked his door. Open day and night, anyone who wanted to come in would come in. Consequently it had become a crash pad for the dregs of the world. People were high on everything, including canary seeds. Others were shooting up.
Arriving, Ritchie knocked on the door. No answer. So Ritchie tried to open it. The door fell off its hinges, crashes to the floor. BLAM!
Looking through the doorway, to Ritchie's surprise the flat didn't seem to have a floor anymore. It was all rubble. Like you took a road crew and dug the street up. Like a bomb had hit the place.
Ritchie stood there, stunned, for a moment, trying to figure out what had happened.
Part of the rubble moved. From it emerged the drummer.
Seeing Ritchie, he says: "Hello. How are you?"
Blackmore replied: "What's happening?"
"Oh, it's all happening," says the drummer. "Everything's happening."
"This is it," Ritchie thinks to himself. "He's just gone completely mad."
Another part of the rubble moved.
Jon Lord stood up.
As Ritchie watched, more and more people rose from the rubble. They'd been sleeping, covered with newspapers and stuff.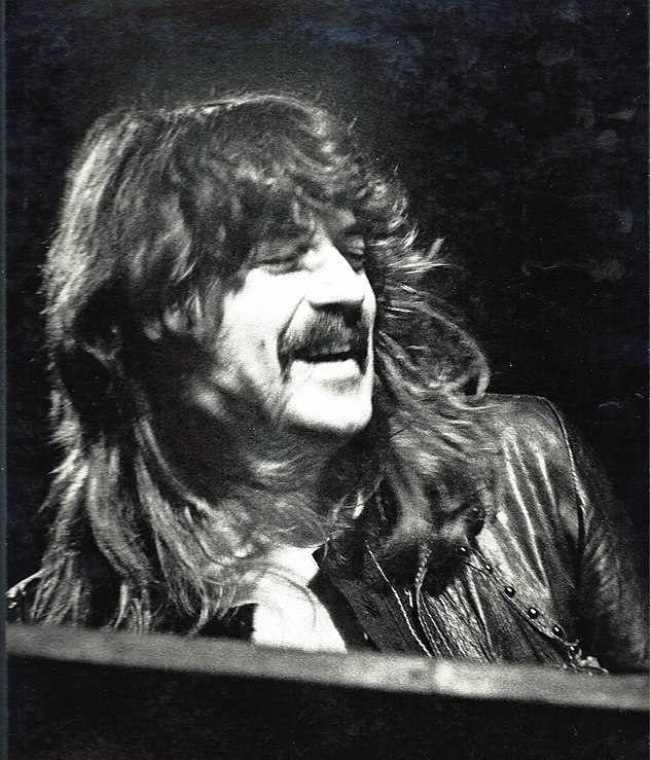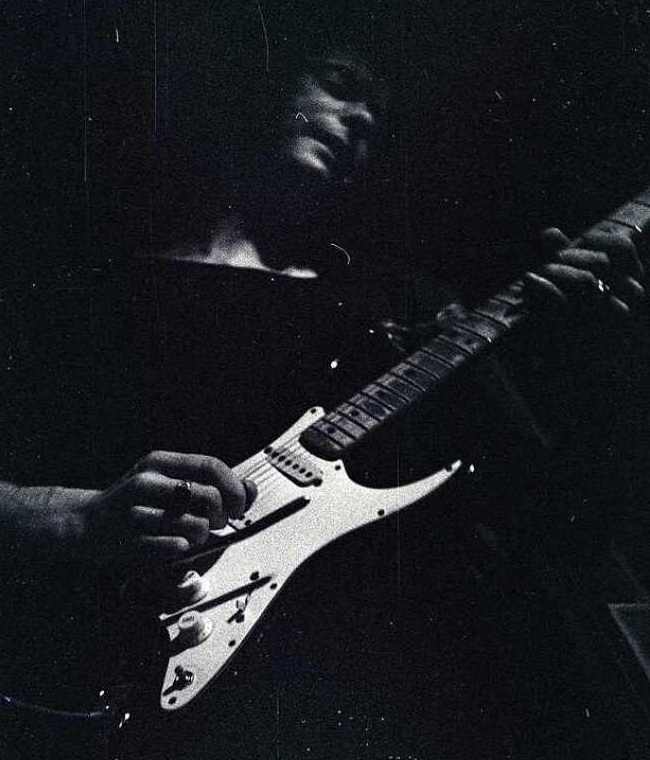 "I don't call that progressive. I just call it heavily rehearsed."
– Ritchie Blackmore
Wow. Talk about a momentous encounter. Something out of a Hollywood movie.
At the time, Blackmore continued, Jon Lord was playing in a group called the Flower Pot Men, doing a lot of flower power things.
Turns out, Ritchie wasn't too far off with that little crack about the drummer going completely mad. As they started talking the drummer explained he wanted Blackmore to play second guitar.
"Who's playing lead?" asked Ritchie.
"I am," answered the drummer, who proceeded to tell Jon Lord he'd be second keyboard player.
"Who's playing keyboards?"
"I am," he answered.
The drummer proceeded to explain he would also play bass, be lead singer, be the manager, and (of course) play drums.
As a result, Ritchie and Jon decided to put their own band together. Nicky Simper, the original bassist, was playing with Jon in the Flower Pot Men. They auditioned singers, deciding upon Rod Evans, whose previous band, Maze, included drummer Ian Paice.
And the rest, as they say, is history.
We have subsequently seen a number of stories about the origins of Deep Purple, none of which include the tale told above. But these words came out Ritchie Blackmore's mouth, into my ears. And I was taping it.
The interview (written) and the audio can be found among articles posted under my name on Rock's Backpages (dot com), the Ultimate Online Library of Classic Rock Journalism, and can be accessed by clicking links below.

"I play the guitar very well and I feel I'm entitled to kick it around a bit. You know you can get sounds with your feet you can't get from your hands."
– Ritchie Blackmore
Read Original Story on Rock's Backpages (dot com)
Listen to Audio of Original 1973 Interview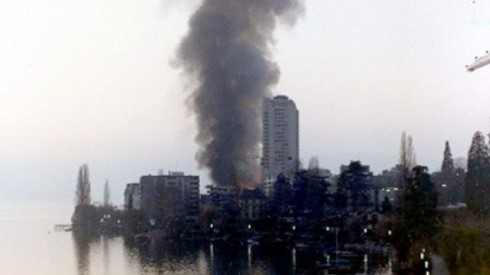 Listen to our Deep Purple Playlist on YouTube