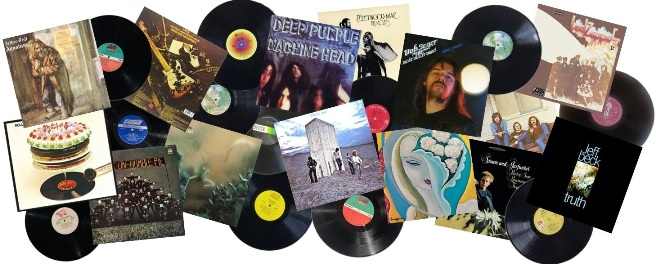 Top 10 Perfect Classic Rock Record Albums
by Jim Esposito
My (G- G- G-) Generation was fortunate to grow up through the Era of The Record Album. Rock was everything to us. We busted out of school, got away from those fools, learned more from a three minute record than we ever learned in school. So says The Boss, and it was true. It was our Shangri-La where we sought refuge, our Forum where we debated philosophy, extolled politics, learned about love. And it was our church, where we rejoiced in blessings the (Rock) Gods bestowed upon us.
Our lives are landmarked by a succession of immortal musical documents, three-dimensional poetry. We remember where we were, what we were doing, who we were doing it with when we heard "Free Bird" or "American Girl," "For Emily," "It's My Life" or "Wishful Sinful." Wish I could share images Al Green's Greatest Hits conjures up, but they are strictly X-Rated.
We feel sorry for kids raised through this digital age of iTunes. They don't get to hold that album, unwrap the cellophane, check out the liner notes. It was practically a religious experience. Me and my friends, watching one guy open the first copy of Live at Leeds we'd ever seen, passing around all the wondrous paraphernalia they'd enclosed. The rest of us hopped in a car, drove directly to Sid's Records.
Still, through the storied annals of Classic Rock there are records which stand out – perfect albums. Not one bad note. Too many times you heard a great song, ran out, bought the LP, only to discover it was the only decent track on the disc. Then there are excellent albums with one or two dog tracks you don't wanna sit through. "Misty Mountain Hop" and "Four Sticks" on Zeppelin IV. "Clyde" on J.J. Cale's Naturally. "Idiot Wind" from Blood On The Tracks. That's one good thing about this Digital Age: it's simpler to hit the skip button on a remote than get up, go over to the stereo, move the needle on your turntable, get it down in the silence between tracks, which usually took a couple tries, especially if you were stoned, which of course we always were.
In this dissertation we shall honor the "Perfect Albums" in Rock History. Those of you who have ever tried know artistic efforts are fickle, elusive, mercurial creatures. The best ones have a life all their own. Much as one might try rarely do stars align, the creative process crystallizes, somehow congeals into a masterpiece. This is especially true in music. Ponder for a moment the implications of "chasing a sound." Musicians hole up in a studio with producers and engineers, an insular environment cut off from the outside world. Sometimes they have material written. Sometimes they're winging it. It's gotta sound slick, but not over-produced. You can rehearse, but you don't want to destroy all spontaneity. After a while they may lose touch with reality. Is that good or bad? Plus, through the Classic Rock era a lot depended upon what kinda drugs.
Ultimately you had a myriad of factors needed to be balanced in varying degrees: the songwriting, the arranging, the recording, the performance, the production and engineering, the egos and the endurance, the stimulation of foreign substances. Rarely did the stars align, and musical artists able to negotiate this dazzling kaleidoscope of creative eddies and currents to produce the masterpieces we salute below.
Quite simply the best album ever recorded with electric guitars. The worst cut on this (double) record ("Tell The Truth") is still pretty good. The best are all-time classics. "Layla" is undoubtedly a finalist for Best Rock Song Ever. Who else you got? "Stairway to Heaven," "Jumpin' Jack Flash" or "Johnny B. Good"? That's some exalted company.
Layla (the album) has it all. Excellent rock originals like "Keep On Growing" and "Why Does Got To Be So Sad?" Incredible blues, including bona fide classics like "Nobody Knows You When You're Down And Out" and Clapton's nods to Freddie King, one of his main influences: "Have You Ever Loved A Woman" and "It's Too Late." Clapton's version of "Key To The Highway" is a virtual encyclopedia of blues licks. Nobody ever talks about the album's softer cuts, but "I Am Yours" and "Thorn Tree In The Garden" are beautiful, the former featuring truly transcendental slide guitar from special guest Duane Allman.
Tales of the Layla recording sessions are the stuff of Rock Legend, and the resultant release could not have been the monster it became had it not been for the contributions of Duane Allman. Guitar God though he was this was early in Clapton's career. As it progressed it became clear Eric preferred to work with and play off another guitarist. He went through a bunch of 'em. Maybe nobody else ever gave him the kick in the pants he got from Duane, whose contributions elevate Layla to monumental status. In one of Rock's enduring mysteries, coming out of uber-group(s) Cream and Blind Faith it is hard to understand the lack of recognition (both critically and in sales) Layla initially received. Released in 1970 it was two years before the world seemed to notice.
Listen to, Buy CD, Buy Vinyl
Derek & The Dominos, Layla
Great albums on this list, but it would simply be unthinkable to have anybody but Led Zeppelin at Number Two. That said, it's difficult to choose between their first and second LPs. Led Zeppelin I absolutely shook the world, but Led Zepplin II is probably the better album.
"Communication Breakdown" and "Dazed and Confused" on #1 hit the Rock world like an asteroid from outer space. With much the same result. Wiping out the dinosaurs – The Lettermen, the Four Seasons, Doo Wop groups, etc... Zeppelin started their first American tour third on the bill, finished it the headliner. Great as the heavy stuff was, however, it was "Babe I'm Gonna Leave You" that defined the band's acoustic versus electric signature. Hard versus soft. Led versus Zeppelin. The Who's John Entwistle tried to take credit for naming the band, coming up with the Hindenburg cover, since it was a hip joke among musicians at the time to explain gigs you flopped, "We went over like a lead zeppelin." But the band members always credit the influence of another foundation heavy metal group for the hard versus soft – Iron Butterfly.
Where their first disc relied on heavy blues covers for album cuts Led Zeppelin II featured tasty original compositions like "Thank You" and "What Is and What Should Never Be," the first inklings of the mysticism the band would later embrace. Blues covers were there, of course ("Bring It On Home" and "The Lemon Song") along with the acoustic versus electric format of "Ramble On," but the LP's opening tracks on each side were monuments of heavy metal. Second Side started with "Heartbreaker," but Track One of Side One, the first notes you hear on Led Zeppelin II, is the opening lick of "Whole Lotta Love," beyond a doubt the single greatest riff in recorded Rock History. (Sorry, Keith. Sorry Ritchie.) Ten seconds into the opening track of Zeppelin II you knew you were listening to an all-time classic.
Listen to, Buy CD, Buy Vinyl
Led Zeppelin II
In the future the 1960s and 70s will be considered a Renaissance, when art and culture flourished. Only instead of blurry watercolors of the French countryside and white marble sculptures of naked men with their junk hanging out it was music and movies. Years from now well-dressed patrons will flock to ostentatious opera houses. Somber musicians will take the stage in tuxedos, bow to polite applause. A conductor in tails will explain tonight the orchestra will perform selected compositions from one of the great classical composers. He'll motion for silence, wave his baton. ""BBBRRR-AANNNGGG!!!! People try to put us down… J-J-Just because we get around!" Wind-milling chords on an electric guitar they launch into "My Generation."
Peter Townshend shall be remembered as the Beethoven of Rock Music. While peers and contemporaries were writing power chord rock and variations on 12-bar blues Townshend was dreaming up the "Overture" (and "Underture") to Tommy. Nowhere is his genius of composition more evident than on Who's Next. Renowned for his crashing wind-milling guitar chords, the incorporation of the synthesizer into Who's Next was both startling and ground-breaking. There is not a bad note on this record. It is both powerful and textured. Roger Daltrey does not get the recognition he deserves as a vocalist, but his performances on "Getting In Tune" and "Bargain" are incredible. Townshend was visionary. The album's magnus opus, "Won't Get Fooled Again," foretold the death of Woodstock. "Meet the new boss, same as the old boss."
It is easy to get caught up in the mastery of the songs, the compositions, the lyrics, the bubbling synthesizer topped by Townshend's guitar. But make a conscious effort to pay attention to the drums. Keith Moon was one of a kind, a total one off. His performance on "Magic Bus" off Live At Leeds was truly staggering, but check out his work through "Bargain."
Moonie was a legendary character. An interview was published in Rolling Stone in 1972. Google "Keith Moon Bites Back." Absolutely the best (and funniest) interview in Rock History, Moon tells the story of his birthday party (now part of Rock 'n Roll Mythology) which resulted in $25,000 in damages to a Holiday Inn in Flint, Michigan, capped off by Moon driving a Cadillac into the hotel pool, and how he almost killed himself learning to surf. ("Jan and Dean never told it like it really was!")
Friends of mine had a band, toured with The Who. First night, The Who's Road Manager welcomed them with rules and regs. "Number One: do NOT give Keith alcohol or drugs. Number Two: NEVER get IN A CAR with KEITH."
We would also be remiss if we did not mention this LP also sported one of the best Album Covers in Rock History. Now a long lost art. The Who's Next cover was brilliant, eye-popping and somehow symbolic, existing on several aesthetic planes.
Listen to, Buy CD, Buy Vinyl
The Who, Who's Next
We've seen a number of lists online of the Stones' best albums. Any such list that does not culminate with Let It Bleed as Number One is simply invalid. Undeniably the Stones' master work it stands clearly out among their catalog, which is saying something, not only for the songs it contains, but production quality as well. Previous LPs from the Rolling Stones were essentially collections of individual songs, but Let It Bleed hung together as a complete artistic document. The slicker, more layered sound certainly helped.
Yeah, I've heard Exile, and I've heard 12 x 5. I've heard ALL the Stones' albums, love a lot of them, still dig 'em out once in a while. Though they started as a blues cover band, part of the British Invasion, cranking out Singles, once Mick and Keith developed into songwriters the Rolling Stones rose to a whole new level. The best songs these guys wrote are as good as anybody's ever. Every Stones album has one or two great tracks, a couple good ones, some others you don't mind sitting through. But two great songs times 30-something albums – that's A LOT of great songs.
Starting with "Satisfaction" Keith Richards evolved into one of the most proficient riff-meisters in Rock. (Our personal favorite, and our favorite Stones song is "Jumpin' Jack Flash.")
Let It Bleed marks the turning point when The Stones went from a Singles Band to an Album Artist. We also feel it was around this time their song-writing matured. In our opinion they turned that corner on Beggar's Banquet with "Sympathy For The Devil." Let It Bleed was their next release, contains two truly stand-out tracks: "Gimme Shelter" and "Midnight Rambler." The former is their second-best song ever, and "Midnight Rambler" is almost beyond conception. How do you even conceive of a song like that? A Blues Opera? That opening riff? The musical movements, the subject matter. This was true artistic creativity.
The rest of the record ain't too bad to boot. The Stones do perhaps the best rendition of Blues God Robert Johnson's "Love In Vain," a hard core rocker in "Live With Me" (though I miss Mick Taylor's guitar solo from Ya-Ya's), and the title track, which is about as close as these guys ever got to sweet and sentimental. "Country Honk" is the LPs only tongue in cheek track, but the band subsequently electrified this tune into one of their biggest hits: "Honky Tonk Women." ("She blew my nose, and then she blew my mind.") And this list doesn't even include the album's closing track, the haunting, unforgettable 60s anthem, "You Can't Always Get What You Want."
So spare me all the talk about 12 x 5 and Exile on Main Street. Neither of those contain one song that probably would have gotten onto Let It Bleed. (Except perhaps "Tumbling Dice." Or "All Down The Line, "Sweet Virginia" or "Shine A Light.") For the record, while we're on the subject, my list of the Best Stones Albums would be: 1.) Let It Bleed; 2.) It's Only Rock 'n Roll; 3.) Exile; 4.) Stripped; 5.) Some Girls. If we are talking just studio. If we include Live Albums Get Yer Ya-Ya's Out! deserves to be in there somewhere around 2 or 3.
Listen to, Buy CD, Buy Vinyl
Rolling Stones, Let It Bleed
Another monumental artistic document that exploded onto the Rock Music Scene in the late Sixties. Several fascinating documentaries have been produced about the fabled Laurel Canyon scene in L.A., another about the Wrecking Crew, which is tangential. Crosby, Stills & Nash is perhaps the shining masterwork to have emerged from that space in time. When Rock was getting generally louder and more electric this LP shone through like a breath of fresh air. Not only was it a huge commercial success, some say it ushered in the whole era of the singer-songwriter.
David Crosby, Stephen Stills and Graham Nash had seen moderate success in previous bands: The Byrds, Buffalo Springfield and The Hollies. Stills and Crosby had been playing together around Laurel Canyon, went to dinner one night at Joni Mitchell's house. She was dating Graham Nash, who showed up, a bit put off at first to hear other men's voices. Stills and Crosby played a song Stills had just written called "You Don't Have To Cry." Nash joined them. Their harmonies immediately clicked.
Some versions of this tale say it happened at Mama Cass' house, but I prefer thinking it was Joni's, since it was later featured in "Our House." Graham and Joni went out for breakfast. She saw an inexpensive vase in the window of an antique store, which she bought. When they got home, Graham lit a fire while Joni placed some flowers in the vase, that she'd bought (today).
Either way, a momentous encounter. Stephen Stills was quoted later saying they came up with their sound in 30 seconds. CS&N featured arguably the best harmonies in Rock History. Some might argue Mamas and Pappas or The Beatles. (Beatles fans always say the Fab Four did everything first, were best at everything.) That's still some exalted company.
Many people don't know CS&N flew over to London, tried to get a deal with Apple Records, the label owned by The Beatles, were rejected by George Harrison.
Stephen Stills doesn't get enough credit for this album, for he did almost everything except drums on most tracks. Crosby and Nash just came in and sang their vocals. In a couple notable exceptions David Crosby and Graham Nash performed songs they had written. "Guinnevere" was Crosby's, and "Lady of The Island" was Nash's. They may be minor tracks on the record, but they are both truly beautiful masterpieces of simplicity. The latter is one guy on a guitar with his buddy singing harmony. On "Guinnevere" Nash and Crosby intertwine not only vocals but guitars as well. That, my friend, is pure talent.
One standout track is "Helplessly Hoping." Not only a beautiful composition, I love the way they arrange the chorus. "They are one person" sung by Stills alone. Nash comes in for "They are two alone." Then the three of them harmonize for "They are three together." Brilliant.
Two prominent electric tracks, "Wooden Ships" and "Long Time Gone" showcase the brilliance of Stephen Stills at the time. The feel, the mood of these tunes, envelopes you, carries you away. "Wooden Ships" encapsulates the idealistic escapism of that era, and the inclusion of "Long Time Gone" in the opening of the Woodstock movie forever enraptures this song in the mythology of the '60s. The guitar work is incredible, weaves in and out of these tunes so seamlessly you have to really pay attention to notice how great it really is.
You probably notice we're not saying much about the album's two most popular cuts. "Marrakesh Express" was the first single released off the record, peaked at Number 28 on the Billboard Charts. To us it's the weakest songs on CS&N, but it was upbeat and that's what you needed to be to hit the Top 40. Perhaps the signature track off the album was "Suite Judy Blue Eyes." A brilliant composition, featuring great instrumentation and harmonies that quickly established Crosby, Stills & Nash as one of the premiere acts in the country, it was a bit too "Pop-py" for us.
Which was one of the great things about LPs. When we put CS&N on the turntable we always listened to Side Two. Never have gotten used to the CD starting with "Suite Judy Blue Eyes." Side One is all right, but first thing in the morning, over a cup of hot coffee and half a joint, Side Two was always the best way to start the day.
Listen to, Buy CD, Buy Vinyl
Crosby, Stills & Nash
From the heart-pumping intro of "Highway Star" to the "Space Trucking" fade-out Machine Head is one of the hottest albums you'll ever hear. Deep Purple gained fame being louder than a commercial airliner at take-off. They had little artistic pretentions. They were about dueling solos between keyboard player Jon Lord and one of the most incredible guitarists in the world, the mercurial and temperamental to the Nth degree Ritchie Blackmore. (Two verses, Jon's solo, verse, Ritchie's solo…) To do this they needed a drummer, bassist and singer. This edition of the band included an operatic vocalist, Ian Gillan, and Ian Paice on drums, who Ronnie Dio once described to me as a "clock." (There isn't a much bigger compliment you can pay a drummer.) As a young Rock Journalist and Punk Writer (as we were known back then) I wrote several stories on Deep Purple (which you can read on Rock's Backpages dot com). In one of the first blockbuster interviews Ritchie ever granted he described his initial meeting with Jon Lord, which was right out of a Hollywood movie, and in a backstage hang-out piece I actually broke the story behind the recording of Machine Head, now an enduring legend in the pantheon of Rock 'n Roll Mythology, forever immortalized in their song "Smoke On The Water," renowned for one of the signature riffs in rock history.
Looking back it is hard to understand who was really in charge of this band. Their management kept them on the road – A LOT. They were a huge draw, commanded top dollar for live performances, but you would've thought the musicians would've insisted upon a more sustainable schedule, for their management toured them into dust. In subsequent days Jon Lord admitted had the group been managed better, given some time off, they might've been able to carry on at that level for much longer. Who knows? Perhaps the brightest flames burn the shortest.
Deep Purple released three albums through 1968 and 1969, contained some decent stuff (most notably a cover of Cream's "I'm So Glad" and a masterful guitar solo in "Why Didn't Rosemary") before replacing their bass player and vocalist with Roger Glover and Ian Gillan to create what is widely referred to as Deep Purple Mark II. Their first release, In Rock, opened with an incredible duel between Lord and Blackmore in "Speed King" and culminated with "Child In Time," the track which really made people sit up and take notice of Ritchie, for in this tune's extended solo he almost plays faster than the human ear can hear.
In December, 1971 Deep Purple was obligated contractually to deliver a new album to their record company. They were booked to play a casino in Montreux, Switzerland, along the shores of Lake Geneva, after which they had two weeks off from their brutal touring schedule. The band hired the Rolling Stones Mobile Unit to record the show, performing previously released material, deliver a live album, enjoy a few weeks of R&R. What happens next is now a true Rock Legend.
The day before Deep Purple, Frank Zappa & The Mothers of Invention were scheduled to play a matinee at the casino. During their show someone in the audience shot a flare gun into the air. The flare lodged in the ceiling, started a fire, and "burned the place to the ground." Fortunately, nobody was killed, but this left Deep Purple in a bind. With the help of "Funky Claude" Nobs, they found a hotel which had closed for the winter, parked the Rolling Stones Mobile Unit outside, ran cables in, stacked mattresses against the walls, and in two weeks they wrote and recorded Machine Head.
Guess it might've been the high-pressure, adrenal spontaneity, but Machine Head is an absolute monument of Heavy Metal. Seven tracks: four monster classics and two quite listenable tunes which gave Ritchie Blackmore a chance to record some of the hottest guitar solos in recorded history, ending with some clever lyrics wrapped around a drum solo.
(They LOVED their drum solos back in those days.)
Machine Head opens with "Highway Star." There's a riff in Ritchie's solo here, starts around 4:08, turns into a bit of theme. I remember watching him repeat this riff live on stage, his fingers bending strings to the same precise intonation every time. "Maybe I'm a Leo" might be the worst cut on the disc, since it's not an all-time classic, but still features an excellent guitar solo. Third track is one of Deep Purple's best, though few talk about "Pictures of Home." An upbeat shuffle, not only is Ritchie's solo great, Jon Lord's organ solo might be his best on record. In addition, there's a great little instrumental tail to this song. Closing out Side One is "Never Before," which was supposed to be the LP's "Single." A great little tune, pay attention to Ritchie's staccato fills through the intro, especially the last with his bend bar before the band kicks in.
Side Two opens with the unmistakable intro riff of "Smoke on the Water." This quickly became the single from this LP. Deservedly so. The Single Edit cuts a couple bars off Ritchie's solo but it soon became Deep Purple's signature tune. It is followed by another all-time Purple classic – "Lazy" – which opens with Jon Lord's swelling organ intro before he settles into a catchy boogie noodling. Ritchie's intro riffs are brilliant and once the band kicks into gear "Lazy" turns into a long, jazzy finger-snapping jam. Machine Head then closes with "Space Truckin'," where drummer Ian Paice gets his solo.
A huge record at the time, Machine Head holds up well through the succeeding decades. Deep Purple never came close to this again, and the pressure of their brutal touring schedule, exacerbated by Ritchie's extreme temperamentality, soon tore the group apart. Machine Head endures, however, as the best Hard Rock album ever recorded by anybody not named Led Zeppelin.
Want a quick list of the best Hard Rock albums ever? It goes: 1) Led Zeppelin II; 2) Led Zeppelin I; 3) Machine Head; 4) Bridge of Sighs by Robin Trower. Those are essentially nailed into place. After that you can start to argue.
Listen to, Buy CD, Buy Vinyl
Deep Purple, Machine Head
In the annals of Rock nobody worked harder than Bob Seger. Maybe 250 gigs a year, the guy must've played every dive in the country. Bars, clubs, small halls. You needed an opening act, call Seger. Every couple years one of his songs got airplay, he got better gigs. Six months later, after it faded from the charts, he was back playing bars again.
I met Seger in 1973. I remember that because stretched across the bed in a seedy oceanfront motel on Sunny Isles he was telling me about his new album, Back in '72. A couple months later I did another story. (Also posted on Rock's Backpages dot com) Seger was playing a gig on the roof of a projection hut at a drive-in theatre across the street from Fort Lauderdale Airport, commercial airliners coming in for a landing maybe 500 feet overhead. That was bad enough. Then it started to rain.
Seger was great guy. Personable. Down to Earth. I liked him, rooted for him, bought his albums. They were good. Back in '72 and Seven especially. But never in my wildest imagination did I think he was capable of producing a masterpiece like Night Moves, the best American Rock 'n Roll album ever recorded.
Back at the drive-in, when it started raining, everybody crowded into some Winnebagos which served as the band's dressing room. Sitting across from me Seger picked up an acoustic, started strumming chords – G to C changes with a quick F in between. That was in '73. "Night Moves" was released in 1976. And there were those chords. To this day I wonder if Seger thought it up right in front of me. Or was it something he was already fiddling around with?
A great song at face value, parking and making out. Who could not relate to that? But then through a bittersweet refrain, Seger takes "Night Moves" to a whole new artistic, poetic level.
"Woke last night to the sound of thunder
How far off? I sat and wondered.
Started humming a song from 1962…"
Ouch! Especially these days, For that was in 1976. And so many of us are still humming songs from the Sixties.
Seger doesn't get the props he deserves for the album's opening track: "Rock And Roll Never Forgets," but it is another truly amazing song, a paean to the Rock Gods. "All of Chuck's children are out there playing his licks." Then you got "Night Moves," which is followed by "Fire Down Below" and "Sunburst." Strong, strong tracks. The latter is another song about the Rock 'n Roll Life on the road, a continuation of a theme Seger first tapped in "Turn The Page" (Originally on Back in '72, though the version which got all the airplay was from 1976's Live Bullet). These are songs written in the back seat of a car on a highway driving from Ann Arbor to Tulsa, and/or Memphis, Denver and Atlanta. All of the above.
Another transcendental track from Night Moves is "Main Street," a smoky, haunting tune of poignant imagery which transports you the lonely late-night city streets of Detroit. What makes this track incredible is the soaring guitar work of Pete Carr. Most people have never heard of Carr, but you don't get to be guitarist for the legendary Muscle Shoals Swampers without having serious chops. (Barbra fricking Streisand gave this guy a one minute solo.) Starting with Back in '72 Seger began recording tracks for his albums at Muscle Shoals. For Night Moves "Come to Poppa," "Ship of Fools" "Sunspot Baby" and "Mainstreet" were recorded there. Pete Carr's work in "Mainstreet" jumps out. A mesmerizing intro riff turns into a recurrent theme through a short bridge between verses which serves as the song's abbreviated chorus. After the second verse, just past the two minute mark, Carr drifts off into a dreamy, wistful reverie, sliding from note to note in pensive yearning. And man, you are THERE – 2:00 a.m. on the streets of Detroit, in the red glow of a neon Budweiser sign hanging in the window of a pool hall, trying to muster the courage to approach an exotic dancer who just got off work without coming off like one of the creeps. The solo only lasts around 30 seconds, but the feeling it evokes lingers as Carr's melancholy licks trade off with the vocals through Seger's third verse and the track's bittersweet conclusion.
Listen to, Buy CD, Buy Vinyl
Bob Seger, Night Moves
Another staggering artistic achievement, not even "7 O'Clock News" can keep if off this list. Simon & Garfunkel enjoyed a "Golden Age" few artists have ever equaled, releasing Sounds of Silence, Parsley, Sage and Bookends between 1966 and 1968. These are all great albums, three-dimensional poetry, but only Parsley, Sage can be considered "Perfect."
Simon & Garfunkel emerged from the fabled Greenwich Village folk music scene. Historically most say this started on January 24, 1961 with the arrival of a dropout from the University of Minnesota named Robert Zimmerman. Many artists either emerged or passed through this scene: Joan Baez, Joni Mitchell, John Denver, Judy Collins, Pete Seeger and Woodie Guthrie, Odetta, Dave Van Ronk, Loudon Wainwright III and Peter, Paul & Mary. Paul Simon and Art Garfunkel both grew up in Queens, met in the Sixth Grade, performing in a production of Alice in Wonderland. They were in an out of each other's lives for the next decade. Garfunkel studied mathematics at Columbia. Simon majored in English at Queens College, wrote and recorded a number of songs, some enjoyed local success. They performed together occasionally, often calling themselves Tom & Jerry.
In 1963, at Gerde's Folk City in Greenwich Village as "Kane & Garr" they played a song Simon had written entitled "Sound of Silence." In the audience was record producer Tom Wilson, who got them a deal with Columbia Records. They released Wednesday Morning, 3 A.M. in 1964. Upon release the LP sold 3,000 copies. (Ouch!) Art went back to Columbia. (The University.) Paul went to England, played folk clubs, eventually recorded an album for U.K. released entitled The Paul Simon Songbook.
Meanwhile, back in the States, something interesting was happening. A late-night D.J. in Boston started playing "Sound of Silence" off Wednesday Morning. Picked up by radio stations on the East Coast the single hit the charts. Columbia Records sent Simon and Garfunkel into a studio, told them not to come out until they had an album entitled Sounds of Silence to capitalize on the success. Released in January, 1966, they threw together tunes from Wednesday Morning and The Paul Simon Songbook. Standout cuts above and beyond an electrified rendition of the title track include "Kathy's Song," "I Am A Rock," a great instrumental called "Anji," "We've Got A Groovy Thing Going," and a re-worked "Wednesday Morning, 3 A.M," now called "Somewhere They Can't Find Me."
This is a very good album, however, with a couple so-so tracks: "Blessed" in the middle of Side; and Side Two starts with "Richard Cory" and "A Most Peculiar Man."
The album rendition of the title track is forever remembered for its use in the movie The Graduate. This is the "electric" version. When the single started getting airplay their producer had overdubbed some electric guitars. It hit the charts, so this is the take released on the LP. At some point you might find it interesting to check out the acoustic rendition from Wednesday Morning, 3 A.M. Stripped down you can really appreciate what a great piece of writing this song is, and what great vocalists Simon and Garfunkel were Another standout is "Kathy's Song," written in England after the disappointing release of Wednesday Morning, which contains one of the most telling lyrics Simon has ever written:
"I don't know why I spend my time, writing songs I can't believe
With words that tear and strain to rhyme"
Notice how those words DO NOT tear and/or strain to rhyme.
Released in January, 1966, Sounds of Silence peaked at #21 on the Billboard Charts. Columbia also released "Homeward Bound" (recorded during the Sounds of Silence sessions) and "I Am A Rock" as singles. They both hit the Top 10, the latter peaking at #3. For me, personally, one song that hits home is "Leaves That Are Green." "I was 21 years when I wrote this song…" I remember listening to that when I was 17, thinking – "Wow! Twenty-one years old is so far off."
Well, that was 1969.
Meantime, success gave Simon & Garfunkel clout and they were quick to flex their muscles, taking their time recording Parsley, Sage, reportedly nine months. Not in the studio for that whole stretch, they'd record, listen to tracks, come up with ideas, go back for overdubs. They insisted upon creative control, and state-of-the-art technology – an eight track recorder. As a result Simon & Garfunkel went way over budget.
The most recognizable cut on the album is "Scarborough Fair / Canticle" a delicate interweaving of an old English folk song Paul had learned when he was playing folk clubs in the U.K. and an anti-war weeper he'd written and released a couple years before. The other track most people might remember off this LP is "The 59th Street Bridge Song (Feeling Groovy)." Which is probably unfortunate. A catchy little piece of fluff, it fits perfectly into Parsely, Sage but is far from a highlight.
A standout is "For Emily, Whenever I May Find Her," one of the most beautiful and romantic songs ever conceived. Talk about three-dimensional poetry, the lyrics in this tune are almost beyond conception, the music sublime, and Art Garfunkel's vocals transcendent. Another strong track is "The Dangling Conversation." This is Paul Simon's songwriting at its best, an insightful portrayal of an everyday occurrence, painting a picture.
"It's a still-life watercolor, of a now late afternoon
As the sun shines through the curtain lace
And shadows wash the room"
This is one of those songs that is like an entire movie all to itself.
Other tracks on Parlsey, Sage are varied and poetic in their own right, from "Patterns" to "Cloudy" to "Homeward Bound," "Flowers Never Bend With The Rainfall" and "Poem On The Underground Wall." You gotta love the social commentary in "The Big Bright Green Pleasure Machine" and the Dylan satire, "A Simple Desultory Phillippic." ("I lost my harmonica, Albert.")
As for the aforementioned "7 O'Clock News/Silent Night," somehow it doesn't seem as dated as you might imagine. The basic message still comes through, loud and clear. With Simon & Garfunkel singing "Silent Night" does it really matter what kind of newscast you play over it? Lenny Bruce, Martin Luther King, Nixon, LBJ and Vietnam. We have a whole new bunch of death and destruction these days. The fact that over the last 50-some years it's still pretty much the same does not diminish the impact of this track's social statement. As Peter Townshend told us: "Meet the new boss, same as the old boss."
Listen to, Buy CD, Buy Vinyl
Simon & Garfunkel, Parsley, Sage
I've seen a number of articles over the past few ranking Steely Dan albums. They invariably end with either Aja or Gaucho as the best. We would say we don't know what these people are listening to, but we do. It's JAZZ! Gaucho goes off and I'll lay odds the next thing comes on their turntable is either Miles Davis or Dave Brubeck. There's hardly even any guitar on those records. A couple decent tunes like "Deacon Blues" and "Hey Nineteen," but any true Rock 'n Roller listens to Aja and Gaucho thinks they're Elevator Music.
Steely Dan was great. You can't really call them a band. It was the creative partnership of Donald Fagen and Walter Becker surrounded by a circle of session musicians. They put out 4-1/2 excellent albums, but Aja and Gaucho was like their Houses of The Holy, where one of your favorite groups transitions from doing stuff you loved to a band you listen to because it kinda reminds you of the great music you really liked before.
Fagen and Becker met at Bard College in Annandale-on-Hudson, New York. On the way up, playing for Jay & The Americans, lead singer Jay Black called them "the Manson and Starkweather of rock 'n roll." They wrote great songs about the sleazier side of urban life – pimps, junkies, pushers, street hustlers and pawn shops. When asked once why their songs featured such unsavory characters, Donald Fagen explained: "Paul Simon doesn't live in my neighborhood."
The first three Steely Dan albums were very good. In hindsight their debut, Can't Buy a Thrill, seems simplistic, rather straight ahead. They had two big singles ("Do It Again" and "Reelin' in the Years") but aside from some eye-catching guitar work, as so often happens, those hits were probably the weakest tracks on the record. Standouts included "Brooklyn," "Dirty Work," "Fire in the Hole" and "Only a Fool Would Say That."
Though it did not sell well upon release, the band's second LP Countdown to Ecstasy is probably our favorite. "My Old School" and "Show Biz Kids" are great cuts, and "Your Gold Teeth" foreshadows the jazzy direction Steely Dan would subsequently take.
Pretzel Logic, their third, is kinda hit and miss. "Rikki Don't Lose That Number" peaked at Number Four on the Charts, the highest a Steely Dan single ever attained, but again it's not one of the stronger tracks. This album had shorter songs, less extended instrumentals, much more obvious jazz influence. "Night by Night" and "With A Gun" really rocked. The title track was supposedly written as a first person introspection from Adolph Hitler, (the pretzel representing a Swastika) but the guitar work is superb. Steely Dan's version of Duke Ellington's "East St. Louis Toodle-Oo" is a particular highlight.
Released in 1975 Katy Lied marks the point where Steely Dan dropped any pretense of being a band and morphed into the studio artists they were destined to be. We'd be remiss if we did not cite Producer Gary Katz for the job he did on this record.
Of the 10 tracks on this record, eight are excellent, the other two good
Standouts cuts are "Daddy Don't Live in the New York City No More," featuring great guitar work by Larry Carlton, and a wonderful solo by Rick Derringer through "Chain Lightning." The latter is a three minute song with maybe a minute of vocals; the rest is Rick Derringer's guitar.
The track that sends us, however, is "Any World (That I'm Welcome To)." People talk about Steely Dan, nobody mentions this song, but it's beautiful, a truly superior piece of writing and composition, three dimensional poetry.
Listen to, Buy CD, Buy Vinyl
Steely Dan, Katy Lied
Never liked much by Jethro Tull, except an old clip you can downloaded of them off the BBC playing an astonishingly great version of "Stormy Monday." Too much Celtic Folk Music. You can hear that at the root of songs on Aqualung but fortunately it's buried beneath layers of heavy guitar. To this day we don't understand how Ian Anderson pulled this album out of his proverbial you-know-what. At the time people thought it marked a sea-change in Jethro Tull, but – NOOOooo! Don't think we've ever been more disappointed in a follow-up as we were in Thick As A Brick. Tull simply reverted to form, right back to Celtic Folk infused with Progressive Rock.
Aqualung, however, is a monster, a true artistic achievement few musical artists have ever touched. A few years later when their Crest of a Knave won the Grammy for best Hard Rock Album, beating out Metallica, people claimed it was an indication of how far out of touch the Academy of Recording Arts had become. Crest of a Knave was widely considered to be an effort by Jethro Tull to re-embrace the heavy sound they had un-corked and then abandoned from Aqualung. Metallica won the Grammy the following year, and in a now-famous acceptance speech drummer Lars Ulrich quipped he wanted to thank Jethro Tull, for not putting an album out that year.
Previously, discussing Deep Purple's Machine Head I had given you the first four entries in my list of best Hard Rock albums ever recorded: Led Zep II, Led Zep I, Machine Head and Bridge of Sighs. Those four are nailed in place, but you could make a pretty good case Aqualung deserves to be considered for Number Five.
Songs are strong, several scorching indictments of organized religion, sound and production perfect. There is simply not a bad note on this record. The title track's subject is a bit off the wall, even if it was a part Ian Anderson could play disconcertingly well. Who ever thought you'd like a song about a snot-nosed homeless derelict? The lead riff hits home, but the masterfully constructed guitar solo by Martin Barre transforms this track into a classic.
As for the rest of the LP, it is astonishingly strong. For some reason Ian Anderson's song writing seems more inspired than usual. Perhaps it is simply because the real good tracks like the title tune and "Locomotive Breath" put us in a more receptive mood. For there is still a lot of Jethro Tull's Celtic acoustic-based flavor. We have a feeling this was an incredibly personal effort for Ian Anderson, because the second side of the LP is essentially a blistering theological tirade, starting with "My God" and ending with "Wind-Up." But the guts of this album, songs like "Cross-Eyed Mary," "Mother Goose" and "Wond'ring Aloud" are quite good, and the two short acoustic interludes ("Cheap Day Return" and "Slipstream") are truly excellent pieces of music.
Following Aqualung, Jethro Tull was on the brink of all-time greatness. Then came Thick As A Brick. Talk about a let-down. Still, for whatever reason, few artists ever produce an artistic document like Aqualung.
Who knows? Could be Ian Anderson had enough time off gigging, he could hole up and write in a particularly creative atmosphere. Maybe he had pieces of these songs around for a while, finally got the inspiration to finish them. Perhaps he fell in love, he was getting Grade-A sex. Or maybe their dealer got busted, they started scoring better drugs.
Listen to, Buy CD, Buy Vinyl
Jethro Tull, Aqualung
Second Tier
Slick and polished, the second LP from this iteration of Fleetwood Mac probably deserves to be among the Top 10. There's not a bad note on the record. A true masterpiece. A document. A staggering achievement, especially when you consider the pressure these people were under to come up with something good after the success of their previous album. You have to give them credit. They didn't sell out, go commercial. They stuck to their creativity, wrote, performed and produced an excellent record. Perhaps if it hadn't gotten the ad nauseum airplay it received I wouldn't be so ho-hum when I hear these songs.,
Listen to, Buy CD, Buy Vinyl
Fleetwood Mac, Rumours
A double-whammy debut, not only is Truth Jeff Beck's first (solo) album, but it also brought the world Rod Stewart. A truly hot record, before Beck morphed into that perfectionist technician, it is one of the truly great guitar albums in Rock History. Not even the off-the-wall inclusion of "Ol'Man River" keeps this off the list, though it does drop it out of the Top 10. Meantime, though it's tough not to focus on Beck's guitar through anthems like "Shapes of Things," "Morning Dew" and "Beck's Bolero," perhaps the first "Loud Blues" treatments of "You Shook Me," "I Ain't Superstitious" and "Blues De Luxe" (pre-dating even the release of the first Led Zeppelin), try to pay some attention to Ronnie Wood on bass – one of the best album-wide performances you may ever hear. Especially since (and maybe even because) he's a guitar player.
Listen to, Buy CD, Buy Vinyl
Jeff Beck, Truth
Perhaps a bit subjective for I was given a copy of Toulouse Street to review in 1972, but it still ranks as probably the band's best, though The Captain and Me and Stampede could just as easily contend for that title and be included here. "Listen to the Music" was the hit, and as so often is the case it's one of our least favorite tracks on the record. Still remember one of my friends jumping up to play air guitar first time we heard "Rockin' Down the Highway." Acoustic cuts like the title track and "White Sun" are outstanding, and their rendition of Sonny Boy Williamson's "Don't Start Me to Talkin'" could be the best on record. The highlight of this LP, however, is "Disciple." Why this song did not receive massive airplay is a mystery to me.
The Doobies took a big hit when Lead Singer Tom Johnston got sick, had to leave the band. We think it was their Manager, Bruce Cohn, in their documentary Let The Music Play who says Tommy was the best white soul singer in rock history. When you think about it, listen to his rendition of "Take Me In Your Arms (Rock Me)" off Stampede, that statement has a lot of validity. Some might argue the Righteous Brothers, but that's still exalted company.
Listen to, Buy CD, Buy Vinyl
Doobie Brothers, Toulouse Street
Back in the days of 8-Tracks, when we spent nights cruising, this is the only tape I ever had to outright STEAL back from friends I lent it to. A testament to English rock 'n roll, this was album when the sensitive refinement of Peter Frampton and the raw "Let's Boogie!" energy of Steve Marriott balanced out. "Stone Cold Fever" and "Rollin' Stone" are standouts, but album cuts like "Shine On," "Sour Grain," "A Song For Jenny" and "The Light" are excellent. You gotta love Greg Ridley's autobiographical story song, "Big George" and the moodiness of "Strange Days." Another highlight is Marriott's nasty little paen to debauchery: "79th and Sunset"
"Keep on truckin', think of all the fun you had
There's such a lotta good ways to be bad"
Listen to, Buy CD, Buy Vinyl
Humble Pie, Rock On
Not their most famous album, but definitely their best. The Allman Brothers rose to notoriety thanks to their marathon live performances. Their 1969 debut didn't sell well, but tracks like "Not My Cross to Bear," "Dreams" and "Whipping Post" caught some people's attention, especially the guitar of Duane Allman, his twin leads with Dickie Betts. Idlewild South was their second release. Their familiarity with the studio and the upgrade in Producer to the legendary Tom Dowd makes this the jewel of their catalog. Gregg Allman's song writing takes a big step forward with "Midnight Rider," "Please Call Home" and "Leave My Blues at Home." Dickie Betts wrote "Revival" and their tribute to their coke dealer: "In Memory of Elizabeth Reed." There's not a bad note on Idlewild South. Only bad thing you can say about this album is that it's way too short: only 17 minutes on one side, less than 15 on the other.
Listen to, Buy CD, Buy Vinyl
Allman Brothers Idlewild South
Another great album of British Rock 'n Roll featuring (in large part) the aforementioned Rod Stewart and Ron Wood with the significant creative addition of Ronnie Lane. The most successful release by The Faces A Nod Is As Good As A Wink... hit #2 on the UK Charts, #6 in the U.S. "Stay With Me," the single off the record, Rod Stewart's raunchy groupie tune, was a Top 20 hit in the U.S., peaked at #7 in the U.K. As usual, not one of our favorite tracks on the LP.
Aside from a great rendition of Chuck Berry's "Memphis," and Ron Wood's guitar work therein, the heart and soul of A Nod Is As Good As A Wink... are the three-minute English rock 'n roll tunes like "Too Bad," "Miss Judy's Farm," Last Orders Please" and "You're So Rude." Also notable is "Love Lives Here," a beautiful ballad sung by Rod Stewart, written by him, Ron Wood and Ronnie Lane. Back when it came out the monster cut on this record was "That's All You Need."
We would also be somewhat remiss if we didn't put this into a little historical context, for concurrent with his participation in The Faces, Rod Stewart was also producing what we call his English "Party" solo albums, Though Rod is listed as the artist, he is backed the rest of The Faces and a bunch of other friends, obviously having a lotta fun in the studio. Every Picture Tells A Story was released in 1971 and the success of its hit single, "Maggie May" certainly contributed to the sales of A Nod Is As Good As A Wink... that year. Stewart followed up Every Picture with Never a Dull Moment in 1972. Both these records could easily merit consideration for our list of Perfect Albums, as would Side One of his subsequent release, 1974's Smiler. When Rod launches into "You Make Me Feel Like A Natural Woman," however, it's like Star Wars getting to the Ewoks.
These solo albums, preceded by 1969's The Rod Stewart Album (a.k.a. An Old Raincoat Won't Ever Let You Down) and Gasoline Alley from 1970, with A Nod Is As Good As A Wink... thrown in, constitutes Rod Stewart's Golden Age. After that, for tax reasons, like many British artists, he emigrated to the U.S. Atlantic Crossing marked a sea change in Stewart's career, no pun intended.
Listen to, Buy CD, Buy Vinyl
Faces, A Nod Is As Good As A Wink...
We have deeper insight into this LP on our "Reviews" page, where we consider fresh perspectives on notable Classic Rock albums. An all-but forgotten artist, and when anyone does remember English guitarist and singer songwriter Dave Mason, they're focusing on his popular material, not his best. In and out of early Traffic, Mason was good friends with Jimi Hendrix, played him a test pressing of Dylan's John Wesley Harding, which was the first time Hendrix heard "All Along the Watchtower," plays 12-string acoustic rhythm on Jimi's rendition.
Though credited with 15 studio albums, his two early solo LPs were by far his best, back when he was making music instead of money. His first, Alone Together, released in 1970 on Blue Thumb, was excellent, well produced, with good songs and great guitar work through moody, heartfelt compositions like "Look at You, Look at Me" and "Shouldn't Have Took More Than You Gave."
It's Like You Never Left, Mason's second solo album was released on Columbia in 1973, and it is superb. Sound and production quality, top-notch. Song writing, great. Mason is joined by George Harrison on slide guitar in "If You've Got Love," by Stevie Wonder on harmonica in "The Lonely One."
Mason's scintillating lead guitar really pops through the entire record, making tunes like "Baby… Please," his "Director's Cut" of "Headkeeper," the title track and the brilliant instrumental jam "Side Tracked."
Dave Mason went on to release a number of albums, achieved a good measure of commercial success. His records were always quite listenable, though ultimately lightweight. His best pure musical artistry, however, were his first two solo releases, Alone Together and It's Like You Never Left.
Listen to, Buy CD, Buy Vinyl
Dave Mason It's Like You Never Left
When it comes to heavy psychedelia Robin Trower's second solo album Bridge of Sighs is tough to top. Trower recorded eight LPs with Procul Harum, so familiarity in the studio would not seem to be an issue. Still, Bridge of Sighs represented a giant step upward from his debut solo record: Twice Removed from Yesterday. The songwriting crystallizes, though these aren't songs so much as compositions, guitars interwoven and interlaced through themes and movements. The sound, instrumentation and guitar tone are letter-perfect. The masterwork is "Too Rolling Stoned," featuring an instrumental interlude just under four minutes long at its end. Other standouts include dreamy, ethereal numbers like the title track, "In This Place" and "About to Begin." A monster achievement, Trower never really came close to Bridge of Sighs again.
Even so, you might find it rewarding to check out Robin Trower's bluesy albums through the 90s and into the 2000s, particularly Another Days Blues.

Listen to, Buy CD, Buy Vinyl
Robin Trower Bridge of Sighs
One of the truly great debut albums in Rock History, Mark Knopfler was working as an English teacher, his brother David as a social worker when they formed a band (initially called the Café Racers) in London, 1977. Their self-titled debut was recorded for a cost of 12,000 pounds in February, 1978. The big hit was "Sultans of Swing," but there are a number of excellent songs on this record: the opening cut, "Down to the Waterline," "Wild West End" and "Lions." The other tracks are quite good, cut from the same cloth with no skippers. You can listen to this whole album all the way through, stay in the same British gray and overcast kinda mood.
As so often happens, a band's early recordings typically feature their best material. Artists work and struggle, playing bars, writing music, hungry. They get an album deal, they have years of songs they've been writing, and they record the best stuff they've got. Three or four albums down the road, they have exhausted their backlog. They go into the studio, they only have material they've written in the last year in Holiday Inns, or in the back seat of a rental car driving between gigs.
The second album by Dire Straits, 1979's Communique, featured two really good songs ("Angel of Mercy" and "Single-Handed Sailor"), and the breezy "Portobello Belle," but after that the material's not nearly as good as their debut.

Listen to, Buy CD, Buy Vinyl
Dire Straits
Close, But No Cigar
Finally, for fans of The Beatles and Pink Floyd, who get upset every time a Top 10 List does not include their band:
The Beatles were practically a religion to some people, and they wrote great songs, changed the world, started the cultural Renaissance I reference under Who's Next, but they were a Singles Band. Beatles albums were typically a collection of singles of varying quality, and they never batted more that 85-90%. Except for maybe the Second Side of Abbey Road, the LP that might've come closest to inclusion in my list. Unfortunately, lest you forget, that release also includes "Maxwell Silver Hammer" and "Octopus's Garden." This is true of most Beatles albums. You got great songs, but there's always a couple real stinkers. Some might argue The White Album. But it contains "Rocky Raccoon" and "Birthday." Those songs should be taken out and shot. Others site Revolver, but it's got "Yellow Submarine." These guys were incredible artists who deserve their creative freedom, are entitled to a few tongue-in-cheek tunes. However, that does eliminate them from "Perfect" album. Our favorite Beatles LPs are the old UK releases of Help and A Hard Day's Night with the bonus instrumentals.
Dark Side of The Moon probably could've made it into our Top 10, and we're sure a lotta Pink Floyd fans will complain, once the barbiturates wear off. But without psychedelics it's hard listening to that chick scream for five minutes.
Lest you feel persecuted, however, let us point out some of the other great artists who also do not show:
Bruce Springsteen. A GREAT writer, a great live performer. Darkness on The Edge of Town is his best album. Unfortunately there's a couple tunes, middle of each side, we'd rather skip. Doesn't mean we don't listen to the record, appreciate it. An artist deserves their creative freedom. But everything does not necessarily click with everybody. Darkness got a lot of airplay, eight out of the album's 10 cuts, with the notable exception of the two songs to which we refer. Oughta tell you something.
One of our favorite bands: Ten Years After. Their Golden Age went from 1969's Ssssh to A Space in Time (1971). Great records, each with one track makes you cringe.
Bob Dylan. His masterpiece, Blood on The Tracks, would've made the list if it wasn't for "Idiot Wind."
The Eagles. Great artists, no doubt. Easily could've gone with Desperado. Most their albums, you can listen straight through. Excellent songs. But they were just so slick. Almost prefer the solo efforts of Glenn Frey and Don Henley.
Beach Boys, Pet Sounds. We don't get it. We listen to this record, and it's certainly pleasant enough. "Sloop John B" and "Caroline, No" are great songs, two of their best, and "God Only Knows" is okay. We love the Beach Boys, but they were a Singles Band. We give Brian Wilson his props for being a genius, far ahead of his time in recording technique. We love the photo of his piano in the beach sand in his living room, and if you watch The Wrecking Crew documentary (a MUST for all Classic Rock fans) they say amazing things about him. Still – Pet Sounds, one of the all-time greatest albums in history? You're losing us there.
We love Jimi Hendrix, but he was notoriously spontaneous, not to mention experimental in the studio, didn't spend time perfecting each tune. A lot to be said for that approach, and we are not trying to diminish him as an artist. It got us a ton of postumously released material.
The Doors are another somewhat noticeable ommission. Side One of their self-titled debut would certainly qualify, but after "Back Door Man" the second side gets a little iffy. L.A. Woman is probably their next best overall effort, however "L'America" and "Hyacinth House," which open Side Two, keep it off this list.
Tom Petty is perhaps our favorite all-time Rock Artist, but you got "Rockin' Around (With You)" on his first LP, "No Second Thoughts" and "Restless" on You're Gonna Get It, "What Are You Doin' in My Life" and "Louisiana Rain" on Damn The Torpedos. Those songs are okay, and we listen to them. But are these albums perfect? Sorry – no.