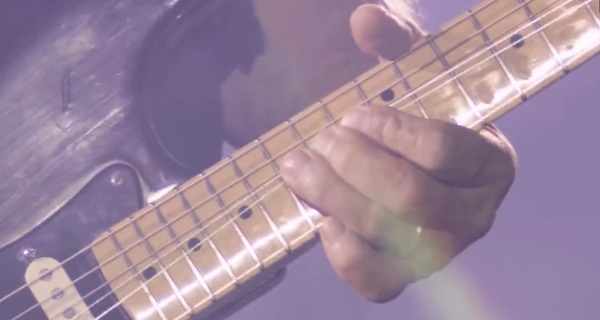 A great guitar solo is a thing of beauty, a composition. Many guitarists jump into a break with loud, flashy scales played at a warp speed. Those guys are just filling space, showing off to get girls, not constructing a lyrically cohesive piece of music. Some players, however, have a way of composing while they improvise.
Whatever I list some people will agree, some will disagree. Others may be irate I left their hero, or the song that changed their life off my list. ("I was all messed up. Then I heard so-and-so playing such-and-such…") There will be great guitar players who don't appear on my list. This is not to denigrate their virtuosity. Some guitarists boast an incredible body of work, however you can't point to one solo in one song that simply crystallizes their brilliance. Other guys are technical virtuosos, but don't have the mentality to construct a fluid solo.
I realize songs and artists I list go back to the Golden Days of Classic Rock. Some may cite newer music. From the 80s or 90s perhaps. Artists and songs I list here are the originals. Eddie Van Halen did great work, but without Jimmy Page preceding he might've been flipping burgers. Popa Chubby, Jimmy Thackery and Joe Bonamassa have likewise play excellent guitar, but stood on the shoulders of Eric Clapton and Ritchie Blackmore.
Also, I differentiate here between a Solo and an Instrumental. A Solo is a dedicated interlude in a song. "Pipeline," "Hideaway" or "Samba Pa Ti" are Instrumentals. Wanna talk about the greatest Instrumentals, that's a different List. Which, by the way, would start with Billy Butler's incredibly inventive solo in Bill Doggett's "Honky Tonk." A seminal piece of guitar work.
Whatever I list I know it will piss some people off, calling it the Greatest Guitar Solos. Well, it is highly subjective. These are obviously MY favorite solos. You don't like mine, shut up and write your own darn list. I'll post it.
1. Alvin Lee
"Good Morning Little Schoolgirl"
Ssssh by Ten Years After
Anybody who disagrees has either never really listened to this song, or they met Alvin Lee. Not the most humble human being. Most people remember him for his amphetamine driven rendition of "I'm Goin' 'ome (by 'eli-copter)" at Woodstock, but Ten Years After released a string of excellent albums through the early 70s: Ssssh, Cricklewood Green, Watt and A Space In Time. More jazz-influenced than his contemporaries (the early British giants – Clapton, Page, Beck, Peter Green – who called him Mr. Speed Fingers) Alvin Lee was as good as a guy can get on guitar. Though he could play real (real, real) fast, his solos were fluid and coherent, and he wrote interesting songs which ventured beyond the 12 Bar Blues, Barre Chord and Riff Rock which dominated that era. For a masterfully constructed guitar solo you will not find one better than in Lee's arrangement of "Good Morning Little Schoolgirl," twin leads searing through a scorching riff and a rather rude second verse when suddenly he's off into an incredible improvisation. Just over three minutes long, it's amazing if you ever saw the man perform it live. His left hand hardly ever moves out of one pentatonic box; he's playing basically the same notes over and over, just a lot of different ways. Also, listening to Ten Years After, especially through the guitar solo in "Little Schoolgirl," pay attention to Leo Lyons on Bass. They cut to him a couple times in Woodstock. People talk about the best Bassists in Rock History, they overlook this guy. Find me one better.
Listen to, Buy CD, Buy Vinyl
Ssssh! Ten Years After
2. Jimi Hendrix
"Little Wing"
Hendrix In The West
A friend once described this solo as "transcendental." I would agree. We could easily insert Jimi's symphonically constructed solo in "All Along The Watchtower" into this slot. And people talk about Hendrix, nobody mentions "Message of Love" off Band of Gypsies, an absolute monster cut featuring Jimi's most staggering guitar work ever. Between being left-handed, playing an upside down guitar, and what must've been going on in that head of his, there can never be another Hendrix. I always remember the quote from the book of Rock Dreams, when a reporter introduced himself: "I'm from The New York Times." With a faraway smile Jimi replies: "I'm from Mars."
Hendrix in The West, released in '72 after Jimi's death, is a compilation of live tracks recorded in 1969 and 1970. Aside from this jewel of "Little Wing," the album also contains a 13 minute rendition of "Red House," and a truly incredible cover of "Johnny B. Goode."
Recorded at the Royal Albert Hall in February, 1969. this performance of "Little Wing," is very clean, well produced. If you didn't hear the audience's polite applause you probably wouldn't even know it was live. Rather close to the studio track from Axis: Bold As Love, Jimi's intro is a profound masterpiece of extemporaneous free-form composition. (Try naming a better intro. "Layla?" "Jumpin' Jack Flash?" That's some exalted company.) The solo is beautiful, Jimi's tone rings bright, pure and haunting. But where the studio track fades out, this live solo keeps going. Around 1:20 in duration, the wah-wah work Jimi winds up with is sublime.
Way too short, this "Little Wing"simply does not last long enough.
Then again, to our great misfortune, neither did Hendrix.
Listen to, Buy CD, Buy Vinyl
Hendrix in The West
3. Jimmy Page
"Stairway to Heaven"
Led Zeppelin IV
Jimmy Page belongs somewhere near the top of this list, but we're conflicted. "Stairway to Heaven" is probably one of the most over-played songs in recorded Rock History. Back in the day we were known as the Punk Writers, and the Punk in me would love to pick another track. Though undeniably excellent it is frankly kinda far down my list of favorite Led Zeppelin cuts. This band was incredible musical force, but after their first two LPs it was all downhill.
Zeppelin Four was a slick, polished effort, but two throwaway tracks will always delegate it a notch below their first two albums when they were predominantly heavy blues. Four also marks the point they really began morphing off into that mystical never-never land which dominated their later work. "Stairway to Heaven" was the pinnacle of Zeppelin Four. Back in the day bands released an LP, then toured to support it, promote it. Zeppelin toured, played their new album, then released it. So I saw them perform "Stairway" live before the record came out. Even upon first hearing you could tell it was one of the group's master works. Still, it was almost too slick, too polished.
Focusing on Jimmy Page's solos you could seriously make a case for "Dazed and Confused," "Heartbreaker," "Communication Breakdown," even the lazy fills playing off Robert Plant's vocals in "Lemon Song." But Page simply never did a better solo than "Stairway to Heaven." This may piss off some Zep fans, but I never considered Jimmy that great a soloist. To me he was more a composer who used progressive acoustic space chords and hot guitar riffs like Mozart and Beethoven used symphonic movements. As a guitarist Jimmy's body of work is without peer, his contribution to Rock Music, Rock Culture incalculable. Without Jimmy Page there might not have been Riff Rock, might not have been Heavy Metal. Certainly those genres would not have been as big without "Communication Breakdown" and "Whole Lotta Love." But it didn't seem like Page put a whole lot of forethought into his solos. They were hot and spontaneous, exploding out of his guitar like a barrage of lightning bolts. That was Jimmy's genius, his signature.
In "Stairway," however, it feels like Jimmy really thought this one through. This solo is an absolute masterpiece, though a bit out of character. Instead of jumping into the fray with a frenetic onslaught of blistering riffs, Page composed an ascending succession of brilliant call and response licks. It's distressingly short: a mere 50 rapidly passing seconds near the end of a seven minute song. Still, if it were not on this list I would be defending its exclusion. So here it is.
But it's still way over-played. Three-quarters of the time you hear Led Zep it's either "Stairway to Heaven" or "Whole Lotta Love." Would it kill these people to play "Dazed and Confused" and/or "Heartbreaker" once in a while?
Listen to, Buy CD, Buy Vinyl
Led Zeppelin IV
4. Eric Clapton
"Key To The Highway"
Derek And The Dominos
Ole "Slowhand" is another guy gotta be near the top of this List. Like his fellow Twin Tower of modern Rock Guitar (see preceding paragraph) it's relatively impossible to single out one song, one solo from a incredibly staggering body of work. Was tempted to select "Badge," but that solo's way too short. Much as I love his work in "I'm So Glad," "Let It Rain" and "Sunshine of Your Love" looking at Clapton's career you are almost required to select something off Layla by Derek And The Dominos, essentially the best album ever recorded with electric guitars.
Clapton was at the peak of his proficiency for these legendary sessions, a fully formed virtuoso who still played with excitement and spontaneity, inspired by the presence of Duane Allman and assorted illegal chemical stimulants. If you listed his 10 best solos maybe six or seven would probably come from this record. "Keep on Growing" is a monster. Some of E.C.'s finest blues playing's in "Nobody Knows You When You're Down And Out," "Have You Ever Loved A Woman," "Bell Bottom Blues" and "It's Too Late."
Ultimately, however, we will go with "Key To The Highway" because it's simply longer than the others, so there's more of it. A 9:40 rendition of Big Bill Broonzy's classic, Eric sings five verses. Duane Allman gets eight bars on slide. The rest of this track is Clapton on his Strat soloing to an easy blues shuffle. A little this, a little that, a little of some other stuff. He plays loud, he plays soft. He's ringing out, then he takes it down. An encyclopedia of blues riffs, this cut showcases – perhaps even defines – E.C.'s smooth, elegant, fluent style. Other players get flashy and obtrusive, have to play fast to get noticed. But Clapton was like Cary Grant on guitar, suave and debonair.
Listen to, Buy CD, Buy Vinyl
Layla & Other Assorted Love Songs
5. Ritchie Blackmore of Deep Purple
Special Lifetime Achievement Award
"Child In Time," "Pictures of Home," "Why Didn't Rosemary," "Highway Star," "Lazy," "Smoke On The Water," "Never Before," "The Mule" and "Strange Kind of Woman." Go ahead and pick one. I think I did good simply narrowing it down to those few. Left out "Speed King" because Ritchie's dueling with organist Jon Lord.
Frankly surprised Blackmore's this far down the list, but brilliant as he was Ritchie wasn't the pioneer like some of the preceding. Important to note perhaps that more than any of those guitarists Blackmore made his name on solos. Deep Purple was not the innovator Hendrix was, didn't revolutionize rock guitar like Cream and Led Zep. These guys just liked to jam. The core of the band was Blackmore on guitar and Jon Lord on organ, and songs they wrote merely an excuse to wrap around their dueling solos. Deep Purple were hot. If you made a list of artists who made Heavy Metal a household name they'd be close to the top.
There's good raw work on Shades, and Purple flirted along the fringes of Progressive Rock in the late 60s. "Why Didn't Rosemary" is the only decent track on their third self-titled LP, but its lengthy, well-constructed guitar solo foretold the future. Deep Purple's fourth release was In Rock. They'd chucked all pretensions, started burning. Gotta love the way they deke you into it. First track on In Rock opens with a swelling symphonic organ intro from Jon Lord, then Purple kicks into "Speed King." Ritchie plays great guitar through this song, dueling licks with Lord. His solo in "Child In Time" is almost faster than the human ear can hear.
The band's 's triumph, though, was Machine Head. A legendary tale, Deep Purple had two weeks between their constant touring, planning to release a live album of songs they were already performing, record a gig they were scheduled to play at a Casino in Montreux, Switzerland. On the Lake Geneva shore. Day before, Frank Zappa and the Mothers played a daytime matinee, during which someone shot a flare, which stuck in the rafters, started a fire – "burned the place to the ground."
Deep Purple had two weeks to write and produce an entire album before going back on the road. The result was Machine Head, a serious document, pure power with a life of its own and a vibrant spontaneity which is the mark of true genius. Ritchie Blackmore's staggering work on Machine Head, for quantity and quality, is on par with Clapton's contribution to Layla. Don't think you can name many other LPs where a guitarist contributed such a sterling, album-wide performance. Led Zeppelin II, perhaps. Band of Gypsies maybe. That's elite company. By this time Ritchie had switched from a Les Paul to a Strat, which gave him a more searing, precise tone, seemed to fit him better.
Many cite Blackmore's solo in Hard Rock Anthem "Highway Star", but for my money "Pictures of Home" is the best track on the disc. Ritchie's work in "Lazy" is pure joy. Everybody talks about the lead riff from "Smoke On The Water," but Blackmore's solo in that tune is top notch, though it was edited for the single cut. "Never Before" is a short track, but Ritchie's never played better guitar in any song.
In the finaly analysis it is all but impossible to choose one of these songs over another.
When it came to being temperamental Ritchie was legendary. Ronnie Dio used to tell me stories. But seriously, nobody has ever been better than Blackmore on guitar.
Listen to, Buy CD, Buy Vinyl
Machine Head
6. Gary Rossington
"They Call Me The Breeze"
Second Helping by Lynyrd Skynyrd
Most would cite the solo from "Free Bird" but that's three guitars and Lynyrd Skynyrd worked on that tune for years playing bars before they got a record contract. Incredible work, and the song that turned most people on to this band through their history. Almost any story about someone discovering Skynyrd starts with: "Well, I heard 'Free Bird...'"
For myself, I was downed out on the couch of a friend's house in Gainesville, Florida, when "Free Bird" came on the FM station. Before it was over I knew Skynyrd was the best Southern Band I'd ever heard. Skynyrd had an edge. Not only were they from Jacksonville, a rude town, but when other Southern bands were playing Elmore James and T-Bone Walker these guys were doing Yardbirds. Ronnie Van Zant got most of his notoriety as a lyricist from "Sweet Home Alabama" ("a Southern man don't need him around anyhow"), but he also penned "Things Going On (That You Don't Know)" and "you've got it made it the shade, babe, don't let that tree fall down on you."
Their first album, Pronounced, had some great work, but aside from "Free Bird" nothing on par with Second Helping. Gary Rossington's solo in "The Breeze" is a lot more spontaneous. In addition to which, in conjunction with Clapton's "After Midnight" it turned me on to J.J. Cale.
I could seriously rank this Third on my List, however Skynyrd was influenced substantially by The Yardbirds, so it doesn't seem right therefore to list it higher than Clapton and Page. Great piano work in "The Breeze" by Billy Powell, too.
I asked Ronnie once how they decided which of their three guitarists would get what solo in each song. He told me they would give each guy a chance to show what they would do in that spot, then take the one they liked the best.
As far as Lynyrd Skynyrd's guitar solos are concerned, Honorable Mention must also go to Allen Collins for "Needle And the Spoon."
Listen to, Buy CD, Buy Vinyl
Second Helpling
7. Martin Barre
"Aqualung"
Aqualung by Jethro Tull
A strange band, I tried to like Jethro Tull's other work. I appreciate their art on an aesthetic level but these guys never came close to Aqualung again. Still thousands of artists pass through life without ever creating a brilliant document of this magnitude. This is one of those albums which somehow crystallize in time and space – like Who's Next, Derek & The Dominos, Let It Bleed, Parsley Sage or Rumours.
Where most records in Jethro Tull's discography are rooted in acoustic Celtic folk music Aqualung stands alone as electric Hard Rock. The songs are strong, several scorching indictments of organized religion, and the sound and production perfect. There is simply not a bad note on this album. The subject of the title track is admittedly a bit off the wall, even if it was a part Ian Anderson played disconcertingly well. Who ever thought you'd like a song about a perverted homeless derelict?
At 3:21 Guitarist Martin Barre abandons his searing lead riff, eases in with a series of tasty fill licks, then takes off into a masterfully constructed solo. The tone he wrings out of his '58 Les Paul Junior just verges on distortion. The solo seems to keep going and going, building from one level to the next, lasting 1:10, a perfect illustration how some guitarists compose spontaneous music whereas others simply play scales and string together riffs to fill space.
The rest of Aqualung is excellent, but I don't think I was ever more disappointed in a subsequent effort than Thick As A Brick, which wasn't cut from anywhere near the same cloth. The band reverted back to their Celtic Folk Music. Still, Jethro Tull hit the heights once, and that's more than many ever achieve.
Listen to, Buy CD, Buy Vinyl
Aqualung
8. Keith Richards & Mick Taylor
"Sympathy for The Devil"
Get Yer Ya-Ya's Out! by The Rolling Stones
Pretty far down the list for "The Greatest Rock 'n Roll Band in the World." Keith Richards, half the group's mainstay creative force, has to rank second behind only Jimmy Page as purveyor of the greatest Rock Riffs, giving us "Satisfaction," "Jumpin' Jack Flash," "Heartbreaker" and "Miss You." Just to name a few. The Stones contributed a body of monster guitar work over the last few decades, but their tight four minute "Singles" type writing style did little to feature extended soloing, though many songs showcase excellent short instrumental breaks – two to four bars, 20 to 30 seconds here and there through standouts like "Gimme Shelter," "Heartbreaker," "Live With Me" and "Star Star."
Talking Stones' solos boils down rather quickly to a choice between "Can't You Hear Me Knocking" or "Sympathy For The Devil," though a good case could be made for "Time Waits For No One." Keith Richards does the solo in the Studio rendition of "Sympathy." Mick Taylor plays nice solos in the latter two. Seems only fair to settle on the live version of "Sympathy" off Get Yer Ya-Ya's Out! Arguably the best Live Album in Rock History, both Keith and Mick get to strut their stuff. Moody and brooding as the studio version was, the live version off Ya-Ya's! is a hot, dynamic performance. Keith goes first, commencing around the 3:12 mark in the right channel. His work here is not far from the sharp, choppy, staccato solo he performs in the Beggars Banquet rendition, a lot of attack in his tone. Jagger jumps in with vocals, playing off fills from Mick Taylor in the left channel. Around 5:17 Taylor launches into an excellentat improvisation of his own. His style is a bit more fluid than Keith's, and the tone he gets is pure Les Paul, all smeary sustain.
Mick Taylor did some decent work after departing The Stones – specifically on Dylan's Real Live – but still does not get the props he probably deserves. His extended solo at the end of the very un-Stonesian-like instrumental tacked onto the end of "Can't You Hear Me Knocking" is a true masterpiece, and few people place "Time Waits For No One" very high on the list of great Rolling Stones songs. A tragic omission, Taylor's majestic guitar work through that track is magnificent. Even through the rest of Ya-Ya's! Taylor really lights it up through numbers like "Live With Me" and "Little Queenie."
Listen to, Buy CD, Buy Vinyl
Get Yer Ya-Ya's Out
9. Pete Carr
"Mainstreet"
Night Moves by Bob Seger
Nobody gets to be lead guitar for the legendary Muscle Shoals Swampers without having serious chops. Many people probably haven't heard of Pete Carr, but everybody's heard him play on records behind Connie Francis, Barbra Streisand, Wilson Pickett, Luther Ingram, Bobby Womack, The Staple Singers, Willie Nelson, Hank Williams Jr., Joe Cocker, Boz Scaggs, Paul Simon and Rod Stewart.
Barbra fricking Streisand gave Pete Carr a one minute solo in one of her songs. How many guitarists can say that?
Carr and Paul Hornsby teamed with Duane and Gregg Allman in the late Sixties in a band called The Hour Glass, after which he wound up as guitar player for the legendary Muscle Shoals Rhythm Section.
In 1973 Bob Seger recorded half his long-lost album Back in '72 at Muscle Shoals. Aside from the original studio recording of Seger's signature ballad "Turn The Page," this record features three monster cuts. Liner notes are not clear about who's playing on what tracks. It is almost certainly Pete Carr playing guitar on the title track, "I've Been Working," probably "Rosalie." His guitar in (the song) "Back in '72" is very hot, but there's no solo, just an incredible rhythm lead, searing fills, and a 15-20 second guitar break.
Seger went back to Muscle Shoals to cut tracks for Night Moves, Beautiful Loser, Stranger in Town and Against The Wind. Among these songs are "Old Time Rock and Roll," "No Man's Land," and "Long Twin Silver Line."
Night Moves, however, is unquestionably Seger's masterwork. From the opening licks of "Rock and Roll Never Forgets" ("all of Chuck's children are out there playing his licks…") it is quite simply one of the best American rock 'n roll albums ever recorded. The title track is a haunting masterpiece. ("Started humming a song from 1962…" And, man – THAT was in '76!)
Rock's Backpages (dot com) has a little "hang-out" piece posted I wrote from 1973, backstage at a gig Seger was performing on the roof of a projection hut of an outdoor movie theater across Highway US-1 from Fort Lauderdale International Airport, jet liners coming in for landings only a few hundred feet overhead. His dressing room was a crowded Winnebago. At one point Seger picked up an acoustic guitar, started strumming some chords, basically a G to C change with a little flourish through an F. A couple years later "Night Moves" came out. It was those same chords. I've always wondered if he'd been fooling around with the changes, working on the tune, or if he created it right in front of me.
Seger recorded four songs at Muscle Shoals for this album, – "Ship of Fools" "Come to Poppa," "Sunspot Baby" and "Mainstreet." A singer, a troubadour, a writer, Seger recorded basic guitar rock: verse, chorus, verse, chorus, guitar solo, third verse, chorus and coda. Pete Carr's playing in "Mainstreet" stands out. First, it fits so well within the moody context of the song, a beautiful composition full of poignant imagery to which almost every urban male can relate, lonely late-night city streets. A soaring, haunting, almost hypnotic intro riff turns into a recurring theme through a short bridge between verses which serves as the song's abbreviated chorus. After the second verse, just past the two minute mark, Carr drifts off into a dreamy, wistful reverie, sliding from note to note in pensive yearning. And man, you are THERE – midnight on the streets of Detroit, in the glow of a neon Budweiser sign hanging in a pool hall window, trying to muster the nerve to approach an exotic dancer who just got off work without coming off like one of the creeps. The solo only lasts around 30 seconds, but the emotion it evokes lingers in your soul as Carr's melancholy riffs trade off with Seger's vocals through the third verse and the track's bittersweet conclusion.
A beautiful song, made so in large part thanks to the captivating guitar work of Pete Carr, which perfectly captures all the wistful, faraway longing and emotion of the composition.
While we're on the subject of Pete Carr and Night Moves, do not overlook his excellent work in "Sunspot Baby." He gets a 30 second solo between the second and third verses, plus about a minute at the end, after verse three to coda. On one hand it's some fairly typical Chuck Berry licks, loud and in your face. But his technique, the way Carr slides from one smeary riff into another, is seriously quite impressive.
Listen to, Buy CD, Buy Vinyl
Night Moves
10. The Beatles
"Carry That Weight"
Abbey Road
Much has been written into the legend which is The Beatles concerning this guitar solo, performed by Paul, George and John trading licks. Some say they were having a musical conversation, some say an argument. Others claim it shows the inner strife which ultimately tore the group apart. All I can say is its way too short. A very atypical little jam for the Fab Four. I'm not one of those people who think the Beatles were God. To me they were a great singles band, truly incredible song writers. Apparently unlike others I did not discover the true meaning of life through their music. Fair is fair, however. No list of Rock's Greatest Guitar solos would be valid if this track were omitted, perhaps because it was so atypical, and they are The Beatles, who changed culture, changed HISTORY. Don't think any other musical artist since the very dawn of time ever had the impact of the Fab Four on the world.
Listen to, Buy CD, Buy Vinyl
Abbey Road
To all the Pink Floyd fans screaming I did not include "Comfortably Numb" – SHUT YOUR FETTERING GOB, YOU TWIT! I'm not a big fan of Floyd, more into amphetamines than barbiturates. David Gilmour certainly did great work, a master of those slow, dreamy bend-bar chops. Great solos in "Time," "Money" and "Another Brick in The Wall." I cut my list off at the Top 10; Gilmour basically checks in at Number 11 with what is generally considered to be his best solo(s) in "Comfortably Numb." I am comfortable with that ranking. The first solo commences around 2:38, lasts 30 seconds. The second starts at 5:05, runs around 1:35 until the track fades into its coda. The first is a bit more in your face. Gotta love the way Gilmour slides from riff to riff. The second features his great signature tone, great sustain, great accents with the tremelo bar. Really captures the essence of the song, which is the ultimate compliment for any instrumental part.
One reason the solos in the studio version of "Comfortably Numb" are not rated higher might be because I have subsequently seen Gilmour's Concert in Pompeii from 2016. The solos he plays in this performance of "Comfortably Numb" are absolutely volcanic. The short solo is almost note for note off the record, but the second solo just keeps going and going, getting better and better, ends up just over four minutes long.
Blu-Ray
David Gilmour Live at Pompeii
Johnny Winter, may he rest in peace, was phenomenal. The first of the loud Blues guitarists, if this was a list of Blues solos he would undoubtedly be ranked Top 10 with his incredible rendition of B.B. King''s "Be Careful With a Fool." Listen to Live Johnny Winter And from 1971. This rendition of "It's My Own Fault" might be one of the best Blues tracks on record. For my money he and Rick Derringer were the hottest guitar duo ever. For pure blistering guitar, tough to top his live renditions of "Johnny B Good" and "Jumpin' Jack Flash" off this disc. What's always fun – listen to Johnny try and play rhythm when Derringer gets his one solo per song. A perfect case in point: "Good Morning Little Schoolgirl" off the album above. Johnny solos for most the song, but Derringer gets his chance. Winter plays chords for a couple bars, then starts getting bored, does some rhythm style licks, eventually decides just screw it, starts wailing right along. Still in a body of work dominated by searing hot guitar, tough to pick out one song, one solo. I have a fond spot for Still Alive & Well, the album, and "Life Is Hard" could be Johnny's best track ever.
Listen to, Buy CD, Buy Vinyl
Johnny Winter And Live
I can already hear Stevie Ray Vaughn fans screaming. The guy was great, no doubt about it, but he was predominantly a Blues guitarist and it's hard for me to pick one solo that would've cracked my Top 10. Actually, some of his best work is done on In Session with Albert King. Had I included any tracks by Stevie Ray I probably would've chosen between "Pride and Joy" and "Stormy Monday" from this album. And if we were doing a list of Instrumentals instead of guitar solos I'd have to include "Scuttle Buttin'." I do not consider this track that good of a song; it's not that pleasing to the ear. Still, as a demonstration of sheer virtuosity on electric guitar, I don't think you can top this track. It is a truly staggering performance.
Listen to, Buy CD, Buy Vinyl
Albert King & Stevie Ray Vaughn In Session
I know I've got Clapton and Page, and some people are going to wonder why no Jeff Beck. Virtuoso though he was on guitar, Jeff Beck did great intros and great fills, but I never thought his solos were all that coherent. Still, listen to his intro on "Living Alone" on Beck, Bogert & Appice. Or check out his fills through "Going Down" from the critically-panned Jeff Beck Group LP. That was a great song for Beck, a hundred tasty fills. Another outstanding track by Beck was "Jeff's Boogie." Again, mostly a collection of fills. To me, Beck's masterwork was Blow By Blow, when he just gave up on singers and did instrumentals. "Cause We've Ended As Lovers" and "Freeway Jam" were incredible. Again, if I were making a list of instrumentals one of those tracks would probably be included.
Listen to, Buy CD, Buy Vinyl
Truth
Another guy I must seriously apologize to is Billy Gibbons of ZZ Top, a band who was famous back in the day for (appropriately enough) selling more tapes than records. This guy was deceptively great, an incredible body of work, just didn't crack my Top 10. Like actors with staggering performances in comedies never get considered for Oscars people tend to overlook guitarists who play boogie rock. I don't know if there's ever been anybody better at single note rhythm guitar. The virtuosity Gibbons displays doing boogie rhythm riffs is ridiculous. Most times you don't even notice what this guy's playing behind his wise-ass vocals, but it's real good work, and he has this sneaky way of oozing off into fills between verses which morph into solos. Guess the trouble is a lot of times Gibbons' solos sound a lot like a collection of rhythm riffs. Listen to "Give Me All Your Loving." There's a couple great solos, but they blend into the song so well you hardly even notice. Most would probably cite "La Grange" as his best solo, and that would be hard to disagree with. First of all, listen to the rhythm riff. People who don't play guitar may not realize just how hard it is to do that little Texas boogie rhythm. It's just three notes. But the virtuosity Gibbons displays in the way he cruises through that rhythm is amazing. Still, for me, if I was going to cite a ZZ Top solo it would be "I'm Bad, I'm Nationwide."
Listen to, Buy CD, Buy Vinyl
Deguello
And – there's no way I can say this with sufficient emphasis – we must remember that none of these guys would probably have been anybody if it hadn't been for the great Chuck Berry. As Bob Seger said: "All of Chuck's children are out there playing his licks." This guy effectively invented rock 'n roll guitar. One of the true travesties in Rock History is that though many artists hit the charts with their whitened up versions of Berry's songs, the only Top 10 Hit Chuck himself ever had was "My Ding A Ling." Ultimately more than his soloing he's known for his rhythm licks and his classic double-stop intro (lifted from Elmore James), but Chuck Berry did tasty Blues. Indeed, most of his signature rock 'n roll licks are simply blues riffs which he sped up. Still, check out his renditions of "It Hurts Me Too" and "Wee Wee Hours," and his London Sessions album released by Chess in the 70s. Talk about a genius. I don't think there's a better line in rock 'n roll than: "Roll over Beethoven, tell Tchaikovsky the news."
Listen to, Buy CD, Buy Vinyl
London Chuck Berry Sessions
Other guitarists who deserve an honorable mention include Robin Trower, the dearly departed Duane Allman for "Blue Sky" off Eat A Peach, Peter Frampton for Humble Pie's "One Eyed Trouser Snake Rhumba," Jeff "Skunk" Baxter for "Neal's Fandango" off Stampede by Doobie Brothers and Steely Dan's "My Old School," Toy Caldwell for Marshall Tucker's "Ramblin'" and Rick Derringer for his solo in Steely Dan's "Chain Lightning." Also, talk about great guitarists, few mention Elliott Easton of The Cars. This band did 3-4 minute songs with tight arrangements, so the guy never got a chance to stretch, but his solos in "Tonight She Comes" and "Just What I Needed" are spectacular, though far too short.
My personal thanks to all these great guitarists for decades of great music.
Listen to, Buy CD, Buy Vinyl
Robin Trower, Bridge of Sighs
Doobie Brothers, Stampede